ICOMOS International Meeting on the Sustainable Development Goals
Collen were proud to sponsor a fantastic 2-day event at Dublin Castle following an invitation from Peter Cox, founding member and Director of Carrig Conservation International, and President of the ICOMOS NSCES+CC, to attend meetings arranged by the ICOMOS International Task Force on the Sustainable Development Goals, otherwise known as the Global Goals - set out to end poverty, protect the planet and ensure everybody will enjoy peace and prosperity in the near future. Several leading world experts in their fields travelled to Dublin for the meetings and gave very interesting and inspiring presentations, with a large emphasis on the preservation, protection, and conservation of cultural heritage.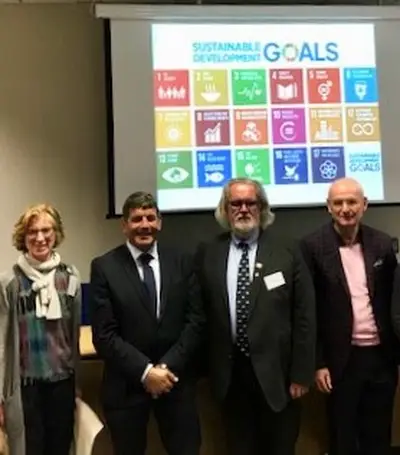 Apart from over 200 years of economic sustainability, Collen prides itself as a venerable company which continues to embrace and develop sustainable practices across all spectrums of its business. Collen's recent NSAI audit is a perfect example of the company's sustainable vision – which focuses not only on commercial considerations, but also consequences of our activities for people and the environment. Smarter systems, such as the use of tablets and less reliance on paper is another great initiative recently set out by Collen, among many others.
Senior Contracts Managers Derek McCaffrey and John Sweeney were at the Collen Construction exhibition stand in Dublin Castle to discuss their work on various conservation projects. Derek McCaffrey's portfolio includes Blackrock Further Education Institute (Winner of the Georgian Society Award for Architectural Conservation) and 32 Molesworth Street. His most recent conservation project is the Abbey Street Office Development which involves the conservation and redevelopment of a Scots Presbyterian Church in to office use and is due for completion June 2018. John Sweeney's conservation projects have included Hugh Lane Gallery which is one of Dublin's major art galleries housed in a converted Georgian Town house, as well as IADT Dun Laoghaire and various conservations works for Dublin City Council libraries including Rathmines Library, Kevin Street Library and Pearse Street Library.
The event attracted an enthusiastic audience which triggered very interesting debates on how conservation of our cultural heritage plays a major role in sustainable development by improving economic, social, and environmental productivity of our cities. Such buildings are looked upon in awe as Protected Structures from a time long past, but they were not so old to the former Collen family members in business during this time period – so who better to restore and protect these buildings than an experienced contractor who helped to create such built heritage in the first place!?
The Collen representatives had a great chat with the Minister of State for Food, Forestry and Horticulture Andrew Doyle (centre below), whose brother Brian served his time with Collen alongside John Sweeney and won a gold medal for his remarkable carpentry skills - small world!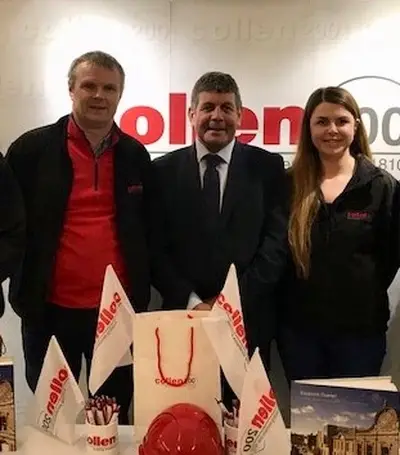 ---
Back to all