Audi Centre
Construction of a new technologically-advanced flagship Audi showroom.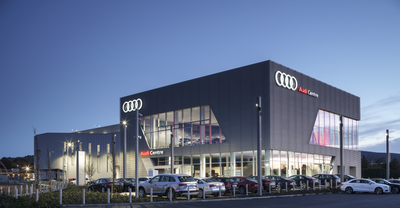 Client
Charles Hurst Group
Civil & Structural Engineer
DBFL Consulting Engineers
Services Engineer
Baxter O'Reilly
An ultra-modern car retail facility based around Audi's newest design concept.
The project consisted of the demolition of existing structure and fabric on the site and the construction of a new 4-storey Audi car showroom over two levels complete with a state of the art workshop containing 18 service bays and state of the art technology. The showroom incorporates a modern auto retail design.
The building contains a ground floor showroom consisting of a customer reception area, service reception, new car display and new car handover bays. The first floor is accessed via an escalator and contains the main new car display showroom. The building also includes a roof carpark, car decks and ancillary accommodation. Works also included associated fit-out works of the showroom and workshops etc., associated site works, drainage and a statutory services installations.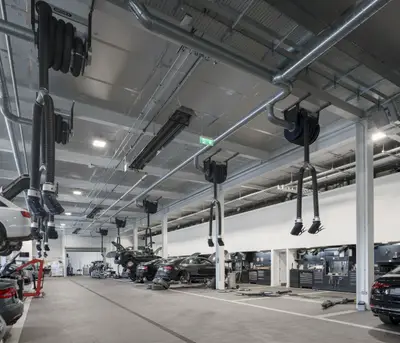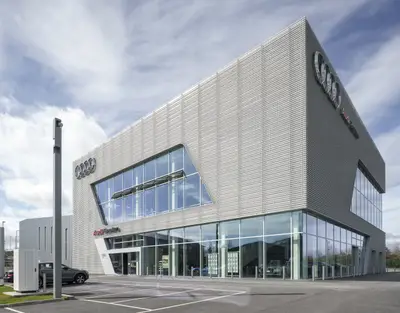 An award winning car showroom. 
Audi Centre was the winner of Retail Project of the Year at the 2018 Irish Construction Industry Awards. The new showroom provides an unparalleled retail experience for customers, showcasing the latest in Audi innovations through technology. 
The building envelope has been designed to include several low energy solutions and a wide range of enhanced service systems aimed at reducing energy consumption. The environmentally friendly showroom boasts fast-charging vehicle facilities for both dual fuel and electric models. The 18-bay service workshop has a publicly accessible reception and parts department, linking into the main showroom and car wash facilities where a water treatment plant has been installed. GFA: 8,750m2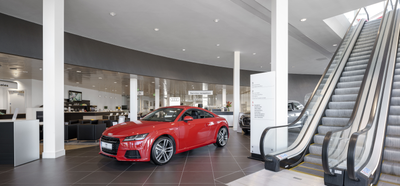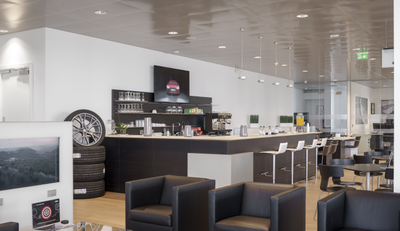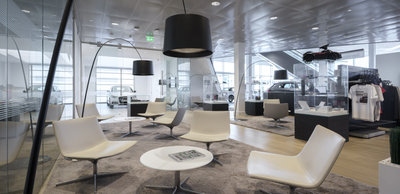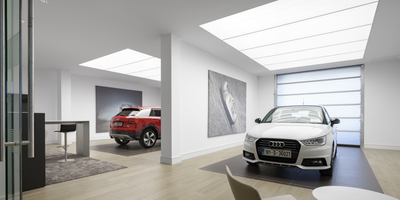 01 / 04
A flagship showroom showcasing the latest in Audi  innovation. 
Audi Centre provides customers with an unparalleled  experience.
Key features of this build include: 
01. First showroom in Ireland with an escalator
02. Ultra modern 18-bay service area
03. High specification customer service and waiting areas
04. Sustainable features include rainwater harvesting and sedum roof