Sustainability has always been a core value for Collen, from sustaining the company for the 8th generation Collen family, to sustaining the environment for all future generations. Collen promotes positive social responsibility and good community relationships in the areas it operates through the generation of local employment, which contributes to inclusive growth, and consideration for inhabitants in close occupation of its operations. For more than 200 years, the Company has built upon strong family values and prides itself in being a responsible Company, balancing Company interests with those of its employees and the wider community.
The Company strives to continually integrate better sustainable practices within the organisation and in so doing, meets the needs of the present while respecting the requirements of future generations. Resource efficiency is embraced as one of the core strategies for smart sustainable development, with the adoption of sustainable models such as BREEAM and LEED, on the majority of current projects. It supports a greener economy; offers added valued to clients and will help the Company to make significant contribution in the fight against climate change through limiting adverse effects of resource usage on the environment. Collen works closely with its suppliers to create synergy within the supply chain. Collen is committed to the reduction of generated waste and carbon and is proactively managing this through its sustainability action plan 'Collen's Green Future'.
The construction industry has made steps to become more sustainable but it is not enough. Collen is committed to going the extra mile in playing its part in making a positive change, to transform the way in which it operates.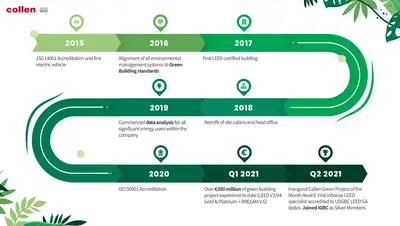 Extreme weather events, climate change, and their impact on people and the built environment have called on us to lead in new ways. That is why Collen has begun the next chapter in its sustainability story; the company has elevated its approach towards environmental sustainability. Below demonstrates Collen's steps in building towards a greener future.
Collen is currently establishing our Carbon baseline and once established this creates the pathway to reducing our carbon emissions.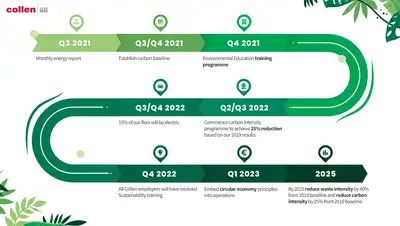 Would you like to find our more about our sustainability journey and goals?
Talk to Rebecca Reilly, our Quality and Environmental Manager.