Collen is recognised as a leader in safety and project execution in all the markets in which it operates. The Collen ethos is that every person has a right to work in a safe environment with the knowledge that they will return home unharmed at the end of every day. In order to achieve this, health and safety forms an integral part of Collen's day-to-day operations and as part of its continuous commitment to reducing accidents/incidents and improving our overall safety performance on its sites, the company introduced a number of 'Leading Indicator Initiatives'. Leading Indicators include proactive and preventative measures that drive the identification and elimination or, control of risks in the workplace that can cause incidents and injuries.
Collen operates a robust Occupation Health and Safety Management System (OHSMS) certified to ISO 45001 and was selected by the NSAI to launch this globally recognised OHS accreditation on a Collen site.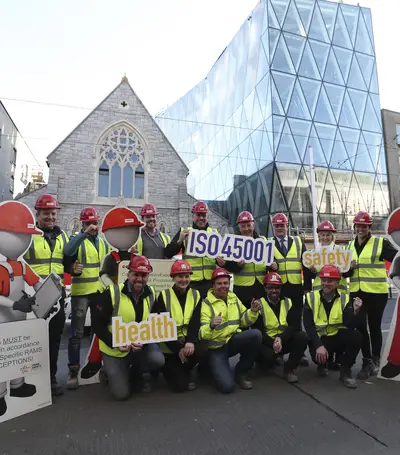 An OHSMS translates the organization's intentions to prevent incidents in a systematic and ongoing set of processes that reinforces commitment to proactively improving OHS performance. The attainment of ISO 45001 accreditation allows Collen to demonstrate to its employees, clients, subcontractors, supply-chain, and the wider community, the company's ongoing commitment to improving OHS performance. Collen involves the full and active participation of all its staff, workforce and supply-chain to ensure that its health and safety objectives are achieved. In addition to ISO 45001, Collen have also been accredited with an 'A' Rating from Safe-T-Cert for 10 consecutive years.
Interested in finding out more about Health and Safety at Collen?
Talk to Joe O'Dwyer, our Health and Safety Manager.