Collen is widely recognized as a leader in safety and project execution across all the markets in which it operates. At the heart of Collen's core values is the unwavering objective to create an environment where every individual working on Collen's sites returns home safely every day and leaves with a sense of wellbeing from their work at Collen. This dedication to safety is deeply embedded in Collen's day-to-day operations.
In pursuit of this commitment and with an unwavering resolve to reduce accidents and incidents while simultaneously enhancing overall safety performance on its project sites, Collen has introduced a series of 'Leading Indicator Initiatives.' These Leading Indicators encompass proactive and preventive measures aimed at identifying and mitigating workplace risks that could potentially lead to incidents and injuries.
Collen operates a robust Occupational Health and Safety Management System (OHSMS) certified to ISO 45001. Notably, in 2018, Collen was selected by the National Standards Authority Ireland (NSAI) to launch this globally recognised OHS accreditation on one of its sites in Dublin.
The OHSMS serves as a conduit, translating the organization's unwavering commitment to incident prevention into a systematic and continuous set of processes. These processes not only underscore Collen's dedication to proactively enhance its OHS performance but also enable Collen to demonstrate this commitment to a wide spectrum of stakeholders, including employees, clients, subcontractors, the supply chain, and the broader community.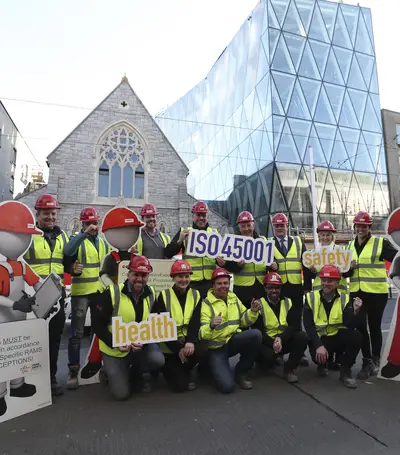 Collen places paramount importance on fostering full and active participation from all its staff, workforce, and supply chain partners. This collaborative approach plays a pivotal role in effectively achieving its health and safety objectives.
In addition to ISO 45001, Collen has consistently earned an 'A' Rating from Safe-T-Cert for an impressive 12 consecutive years. This sustained achievement underscores Collen's unwavering commitment to upholding the highest safety standards, further solidifying its position as an industry leader.
On September 17th, 2021, Collen launched the "Creating Safer Sites Program" at Croke Park. Collen's senior leadership teams from Ireland, Sweden, and Germany have been actively engaged in thought-provoking and, at times, challenging conversations regarding what it will take to create a significant shift in safety and well-being, firmly aligning with the "New Collen Way."
The overarching objective of this initiative is to establish an environment where every individual working on Collen's sites returns home safely every day and feels enriched by their experience at Collen. To achieve this, Collen is actively working to instil a positive and proactive safety mindset, bridge any gaps in safety performance, visibly embed safety values throughout the organization, and cultivate a culture where all levels of management and the workforce are unified in their commitment to the shared safety vision of everyone returning home safely every day.
Interested in finding out more about Health and Safety at Collen?
Talk to Joe O'Dwyer, our Head of Health and Safety.