Collen is an 8th generation, family-owned business founded in 1810 with a strong reputation for building quality and excellence.
The company has successfully tendered and negotiated projects for a range of clients including large multi-national corporations, private companies, local authorities and state authorities. Collen has established a reputation for providing complex projects on time and within budget.
Collen is an international construction company with operations in Ireland, Germany, and Sweden. The company is currently ranked in the top 5 main building contractors in Ireland, and has experience in private and public-sector projects, as design and build contractor, management contractor and joint venture partner.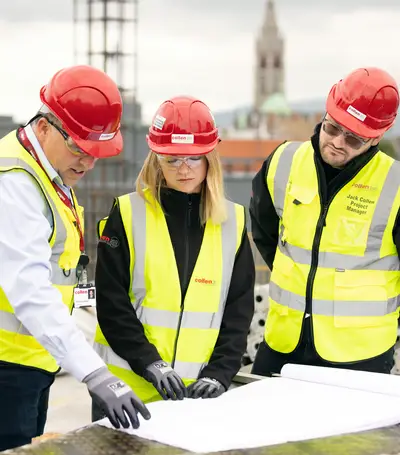 Collen's portfolio includes commercial, fit-out, data centres, substations, biopharma, industrial warehousing, retail, residential, healthcare, conservation and education projects, ranging in value from under €1 million up to €750 million. The company specialises in the delivery of data centres and is recognised as a leader within the data centre build environment with projects in Ireland, Germany and Sweden.
Collen's dedicated teams work closely with design teams providing a full turn-key service through procurement, installation, and commissioning of all elements of the project including fit-out in order to provide a fully functional project to the client's needs and standards, upon completion. The management team ensures smooth co-ordination of all aspects of the project including mechanical and electrical services.
Collen's ability to consistently deliver quality and meet client parameters, has often led to a partnership approach on subsequent projects with the same clients.